Well I have everything. I went with a sexy Asu GTX 560 Video card instead of a Radeon. I spent a little more on it but I read that it had good overclocking for a little extra boost.
Anyways, now all I am waiting on is my motherboard. It was slapped in the mail on Tuesday, and I should have had it Wednesday but I have a forwarding order to a PO Box, and now I have to wait extra. So I won't get it until at least this next Tuesday.
This is frustrating, but I assume its well worth the wait.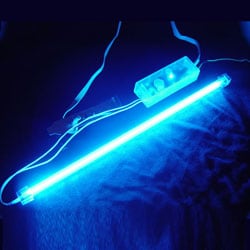 Also, I decided to invest in Logisys 15" Cold Cathodes.
I got blue, sound activate ones for my case. I hope it looks great!
Lastly, I was thinking of either buying a heat sink for my CPU, or to buy a nice sound card (no more than $100 though) because I love music/movies/cinematic experiences in games.
Which should I get?